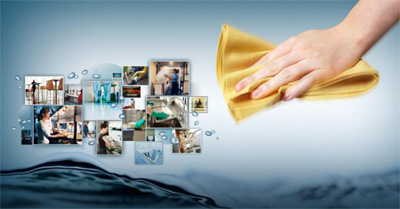 Office Cleaning --
In the busy business environment of the present age, we all spend at least one third of our time in office environment. Your workplace is often interpreted as a reflection of your company and all the stakeholders, i.e. clients, suppliers, sub – contractors, customers, etc.., are very likely to form the first impression of your company based on your office. Besides the clients, the employees would prefer working in a clean business environment. There have been numerous studies to suggest that a clean office adds to the productivity and efficiency of employees and their efforts are synergized to give your business that extra competitive edge.

Classic Building Cleaners understand the importance of cleanliness in a business and are professionals at delivering commercial cleaning services for offices and businesses of all kinds. Our janitorial services are available for industrial, commercial customers and are delivered with the same degree of professionalism and expertise, irrespective of the size, small or large.
Expect more with Classic Cleaning Services...
Our services extend far beyond the usual mop-and-sweep routine work performed by most of the janitorial companies. We have the advantage of a staff with vast experience backed up by the latest of modern cleaning equipment, which combine to deliver impeccable results. For the cleaning assignments of our office and business clients, we use green line products, which are environmentally friendly and bring about a touch of serenity to your work place. It saves your office from the strong smell of cleaning solutions, which are unhealthy for humans as well as the environment.

We work with your schedule to make sure your daily business is not affected by our cleaning schedule. We offer the best quality of service by customizing services according to your business needs while offering you complete flexibility in choosing the way your office space gets cleaned. Depending on your needs, we can be your one-stop shop for providing all kinds of office cleaning, such as carpet cleaning, floor stripping and waxing, window cleaning, cleaning supplies, and other cleaning services that are tailored to suit your budget.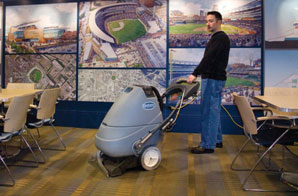 The professionalism of our team and the quality of our services over the years has earned us the reputation of being the leading office cleaning company in Metro. Contrary to other companies, we focus on building long term relationships with our clients rather than making short term associates. We have successfully served a broad spectrum of industries for decades.
Carpet Care – We recommend a regular program of carpet cleaning because it prolongs the life of your carpet and also reduces the likelihood of stains. You will have a carpet that looks, smells, and is clean all of the time. This presents a fine appearance to your clients and a clean atmosphere for your staff to work.
We use a variety of spotters and solutions depending on the type of stains and soils that are required to be
removed and the latest technology in equipment. Click here for more information on carpet cleaning.

Floor Maintenance – We feel it is critical to have a floor maintenance program in place. Floors are washed nightly with a neutral all-purpose cleaner and water is changed frequently. They are polished with a high-speed burnisher using the appropriate pad for each finish. Click here for more information on floor maintenance.



This is usually done on a weekly basis to enhance a bright and clean appearance of your floors. Floors should be scrubbed and or stripped and waxed when the floor becomes soiled or worn in appearance depending on the amount of traffic in this area.

Windows – We provide interior and exterior window cleaning programs to our clients or whenever requested.